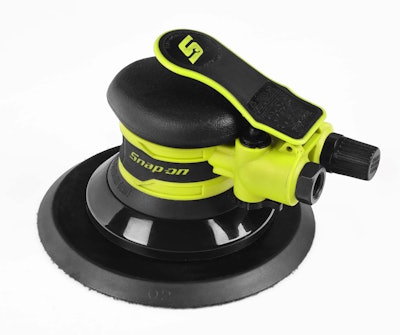 Snap-on announced Tuesday it has re-configured its line of orbital sanders.
New features of the sanders include reduced vibration from the heavy-duty front spindle, balanced crank mechanism and soft, multi-position grip. Even while operating at .25 HP, Snap-on says these sanders glide smoothly across a variety of surfaces, including painted and metal applications, with minimal vibration, offering users better performance and extended tool life.
"These sanders offer such balance and control that it feels like you're doing the work by hand but with an added 12,000 RPM," says Steven Schwabe, Snap-on product manager. "Most other sanders on the market have uncomfortable one-size-fits-some grips, or multiple grips, that can slow down your work. The squeeze comfort grip on these Snap-on sanders is actually a separate piece of rubber that can be turned to the best position to fit a tech's left or right hand, and a host of interior notch settings means the grip stays secure."
Offered in both 3 in. (PSOF4325) and 6 in. (PSOF4625) lengths in a 3/32 in. finishing pattern, and in 5 in. (PSO4525) and 6 in. (PSO4625) lengths in a 3/16 in. pattern, each sander's field-serviceable motor is sealed with a patented O-ring and bearing shield to keep dust and debris from entering critical components. They also have a one-year warranty and are field serviceable, Snap-on says.