When the COVID-19 pandemic hit hard in the U.S., many companies in the trucking industry were deemed essential and allowed to stay open, provided certain safety precautions were met.
Those not so lucky were the schools for medium- and heavy-duty diesel technicians, which were forced to temporarily shut down on-site learning. However, despite the necessary, albeit drastic, steps taken by state and local officials, that didn't stop many of the tech schools from finding ways to keep students attending classes.
It is much to the benefit of the dealers and independent service shops these tech schools were able to find a way, as the industry-wide tech shortage has not gotten any better.
In the beginning
Timothy Spurlock, CEO and founder, American Diesel Training Centers (ADTC) saw the writing on the wall long before March, when the rest of the country was beginning to realize how serious the pandemic was.
"We started noticing things really starting to 'fall apart' in mid- to late-February. As news came out of China and [other countries], students started to get worried. People started to cancel," Spurlock says. "You could literally say this thing didn't start in March, it really started in January. We knew something was up."
In March, Lincoln Technical Institute had to transition to 100 percent online learning. Jim Kuntz, campus president of Lincoln Tech's Philadelphia and South Plainfield, N.J., campuses, says the switch to online in the beginning was tough on the students.
"It was difficult because our students don't select a tech school for online learning. They want to get their hands dirty. That's why they come to us, Kuntz says.
The switch to online learning wasn't liked by the instructors either. "If you think about it, they're blue-collar workers and they're proud of what they do and they like getting their hands dirty, too. They didn't sign up to be teachers online," he says.
Despite the misgivings from students and instructors, Lincoln Tech quickly got the instructors up and running from a technology standpoint as well as training the instructors how to teach online, Kuntz says.
"In every course, we have theory [aspect to them] so we did the theory portion of a lot of classes online when we were 100 percent virtual," Kurtz says.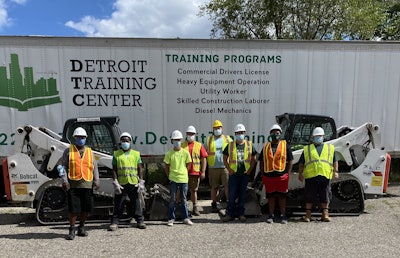 It was a similar story at Detroit Training Center (DTC), having been shut down from all in-person activities in mid-March. The school also moved classroom instruction to online, with DTC setting up instructors to teach through Zoom or Google Meet, says DTC CEO Patrick Beal.
"Our instructors really rallied around it and the students were amazingly flexible about it. I think everyone was just really happy that we came up with a plan that would allow the education to continue," Beal says.
Universal Technical Institute (UTI) in March transitioned its on-campus, in-person education model to an online format by building IT capability, redesigning courses and training instructors to work in a virtual environment. In May, UTI began opening hands-on, CDC-compliant labs at its campuses in addition to the online teaching and demonstrations, says Duane Kramer, UTI vice president of education programs.
Adapting to change
In addition to setting up instructors and students to get instruction online instead of the classroom, there were other changes that had to be made that tech schools and their students had to adjust to.
Safety for all the students and employees upon returning to campus was a priority Kuntz says. In addition to the schools being sanitized and requiring everyone wear a mask, Lincoln Tech had to coordinate schedules in order to keep students properly socially distanced, especially around the equipment. This meant bringing students on campus in shifts to keep class sizes down.
With the classroom instruction being handled online, it was a matter of students getting their hands-on learning done in the shop. And when they were on campus, it was all business.
"There were no lunch breaks. Come in, take attendance, do your work and leave. And I think they really liked that part of it. When we got them in there, there was no downtime for them [and] it got everybody caught up," Kuntz says.
Developing the instructor-led training for the online platform was a big shift for UTI, says Kramer. He says UTI relied on the talent and experience of its instructors to record training lessons, modules and hands-on demonstrations that would teach its students the principles and theory of the various technologies.
"We researched and decided on a delivery platform that could accommodate more than 15,000 videos and the robust infrastructure we needed to deliver our program. Once we decided on the platform, we worked with our students to acclimate them on the new classroom delivery model. To-date, we have had good success in the transition," Kramer says.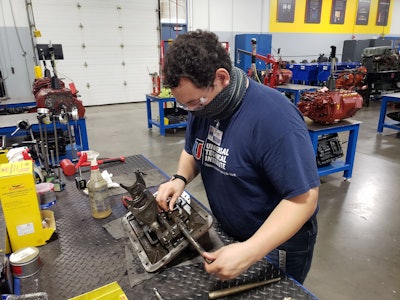 UTI then established the in-person lab portion to the training. Initially, given social distancing requirements, Kramer says there were some scheduling challenges to catch students up on the hands-on portion of their training when campuses were reopened.
"Our campus teams have made good progress and most students, who have chosen to return for CDC-compliant labs, have now caught up on their courses and are moving forward with their educations toward graduation and employment," he says.
In addition to opening up campuses under required guidelines, such as masks, hand sanitizer, taking temperatures and practicing social distancing, ADTC decided to really think outside the box.
"We decided to take a shot and really use the chaos of COVID to try something new. We said, 'What the heck, let's give this a shot and it really worked out in a humongous way," Spurlock says.
In late summer, ADTC launched an in-residence program at its Columbus and Cincinnati, Ohio, campuses. ADTC took its same 300-hour program and made it five weeks full-time instead of the typical 10-week part-time program.
"You can come in from any place in the United States and attend. Over the past four months, we've had people from 30 different states come to American Diesel for training. Of all in-residence students who have come in since the program started, 100 percent have been placed with companies in their local town," Spurlock says.
The tuition is the same whether it's a local student at the Columbus campus, for example, enrolled in the 10-week program or the student is from out of town, enrolled in the five-week program.
From a business perspective, Spurlock says, the revenue per student is decreased because they're put up in a hotel suite by themselves "so they're kind of in a bubble." They get food money and they get travel expenses, either gas money or an airline ticket.
"We have four in-residence classes in January, two in Columbus, two in Cincinnati, and they're both already at capacity," he says.
That was then, this is now
So what has become the new normal at tech schools as the pandemic continues raging and two vaccines are just starting to be distributed?
At this time, Kramer says the majority of students at UTI have come back for blended training, with online instructor-delivered teaching and demonstrations as well as CDC-compliant hands-on labs at the campuses. Each of UTI's 12 Campuses are adhering to CDC guidelines and local health authority recommendations.
"Many students have more flexibility in their schedules and circumstances given the online courses can be taken 24/7 at the students' convenience. Also, as the nation experiences record rates of unemployment, we continue to see employer demand for our graduates and we're seeing growing interest in our programs and technical careers as well," Kramer says.
"UTI plans to continue the blended model, which prepares our students for high-tech careers, requiring hands-on and digital skills and for upskilling on the job, as employers train on new technology online and virtually," he adds.
Lincoln Tech also has continued with blended learning. Kuntz says there is a theory component to everything; students have to understand why something works the way it does. The online theory portion of the classes can be done anywhere, he adds.
"The online learning offers a certain amount of flexibility [and] is recorded. [Students] can go back online and get the exact same lesson as if you were sitting in on the class. The online learning offers flexibility, the hands-on you have to come in," Kuntz says.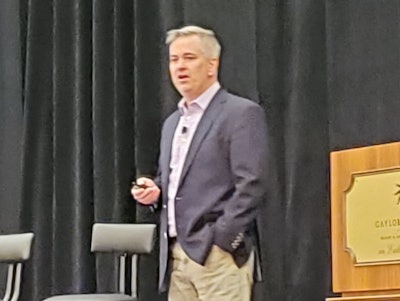 Spurlock says, "You can't teach our program from a distance. You can do some online curriculum. But you can't teach someone how to adjust valves online. You can't teach someone online how to do a brake job — probably the most basic and important tasks."
Spurlock says ADTC was built for social distancing and have been smart about its class sizes. For example classes have a maximum of 15 students.
"With a 20,000 sq.-ft. facility, even if we run a 15-person class, we can spread the out across thousands of square feet— even if we run two classes at the same time," he says. ADTC also is able to reduce the number of students working on a truck from six people to two.
And like the other tech schools, Spurlock says at ADTC, "we require masks, we take temperatures, we lecture them every day that if they're not feeling well not to come in. So far, we've managed it very well."