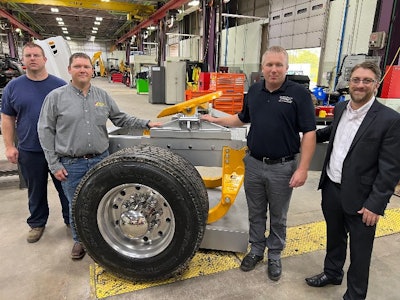 SAF-Holland recently donated a Class 8 drive axle air suspension and trailer axle system to Ferris State University, located in Big Rapids, Mich.
The students in the University's - Heavy Equipment Technology program will benefit from hands-on experience with the donated units which feature NEWAY AD heavy-duty drive axle air suspension with compensating Holland fifth wheel, the Holland heavy-duty swivel pintle hook, as well as the SAF trailer axle suspension system with air disc brakes, the company says.
"We are excited to be able to donate such critical equipment to the University for students to learn truck and trailer technology and maintenance," says Tony Ryan, SAF-Holland national service manager. "Our fifth wheel and suspension systems and components will benefit the students in the program, providing a first-hand look at class 8 truck and trailer systems."
"These systems and components will allow hands-on real-world training to students currently enrolled in the University's Heavy Equipment Technology program as well as generations of future students," adds Daniel Meyers, program coordinator. "Our handson labs are some of the best in the country because of donations like this from SAF-Holland."
Students majoring in Heavy Equipment Technology at the College of Engineering Technology will receive an Associate of Applied Sciences degree at the end of their studies.
According to the University, the AAS in Heavy Equipment Technology focuses on inspection, diagnostics, and repair/rebuild of all types of heavy-duty equipment. With the completion of their program, students will be able to secure job titles like heavy equipment technician, maintenance technician, and service technician. Students can also choose to stay and pursue the Bachelor of Science in Heavy Equipment Service Engineering Technology, the school says.