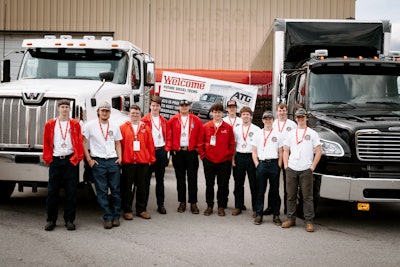 Advantage Truck Group hosted the diesel equipment technology competition for the 2023 SkillsUSA Massachusetts state championships April 28.
"The need for qualified diesel technicians creates strong job prospects for students and skills competitions like this help highlight these opportunities," says ATG President and CEO Kevin Holmes. "ATG is proud to be able to provide this support for SkillsUSA. We see this as a vital part of technical education in the region that will help build the next generation of skilled technicians."
The top high school students in the states vied for a chance to represent the state at the SkillsUSA National Leadership and Skills Conference, June 19-24 in Atlanta. During the event, students showed their knowledge of tools, precision measurement, vehicle components and job interview skills as they moved through workstations that included tasks related to engine diagnostics, electrical systems, brakes, steering, air systems and safety.
Jacob Cooper from Westfield Technical Academy, who works at the Westfield ATG location through the school's cooperative education program, won first place and a gold medal in the competition.
Cooper will receive four hours of training with a master diesel technician at ATG to help prepare for the national competition.
Other winners were:
Joshua Blalock, Blackstone Valley Technical High School, second place and a silver medal.
Cameron Gregor, Southshore Vocational Technical High School, third place and a bronze medal.