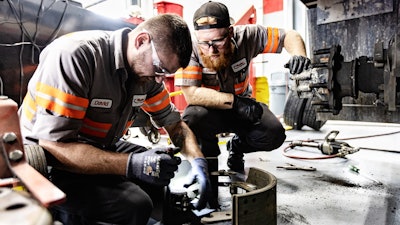 Ryder System continues to invest in its service operation.
The company announced Tuesday it has expanded its best-in-class diesel maintenance technician training programs to further enhance the recruitment and training of professional technicians. The company says the various learning initiatives aim to provide student trainees, early career professionals and military veterans with best-in-class training, course curriculum, and mentorship opportunities.
This announcement comes on the heels of last week's introduction of Torque by Ryder, the company's new mobile maintenance business that will debut this year.
"Throughout the industry, there is a shortage of qualified technicians, which is why Ryder is continuing to make significant investments in further developing skilled technicians," says Bill Dawson, senior vice president and chief of operations at Ryder. "Our training programs are designed to cultivate essential skills for technicians at various stages of their career – to support their job and skills progression as the future of Ryder's logistics workforce."
Ryder states it plans to expand its three existing Ryder Technician Excellence Centers, located in Doraville, Ga., Philadelphia, Pa., and Houston, Texas, to include several new locations throughout North America in the near future. Each center will offer a six-week curriculum that delivers instructor-led classrooms and hands-on training on topics such as preventive maintenance, tire and wheel diagnostics and repair, battery and voltmeter basics, circuit testing and fundamentals of air, and hydraulic brake systems, the company says.
[RELATED: Ryder introducing mobile maintenance service]
As the industry grapples with retaining skilled technicians, Ryder says the learning course is designed to help prepare new and early career technicians through an accelerated learning track.
Ryder's diesel maintenance technician training program also updates include the launch of the Ryder Accelerated Maintenance Program (RAMP), which offers high school seniors an opportunity to obtain hands-on experience by working part-time in a Ryder facility. Through RAMP, student trainees are partnered with certified Ryder diesel maintenance technicians, who serve as volunteer mentors by providing coaching and performance feedback that aligns with a school's automotive or diesel program. Upon successful completion of the program, students will have the option of exploring full-time employment at a Ryder location, the company says.
Since 2016, Ryder's Pathway Home program also has been easing the transition to civilian life for hundreds of U.S. soldiers through a 12-week diesel maintenance technician training course, as well as offering employment opportunities as a Ryder technician upon completion of the training.
Finally, Ryder says its new Technician Trainee Program is an intensive 18-month, blended-learning curriculum that begins with training on how to engage with customers, conduct multi-point vehicle inspections, and fuel vehicles. Throughout the program, Ryder says technician trainees will complete numerous training assignments, from one-on-one interactions with employees in various operational roles to technical instructor-led classes on foundational topics such as air conditioning, heavy-duty electrical systems and Ryder's preventive maintenance.
"Our technician trainee program takes a holistic approach in the overall training and development of new Ryder technicians," says Bryce Kinsley, vice president of maintenance operations at Ryder. "We not only focus on the technical skills necessary to be a professional technician, but we also ensure the trainee's performance meets our standards on safety, quality, and providing a positive customer experience."