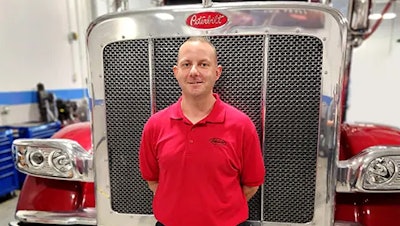 Peterbilt has partnered with Transition Overwatch to assist transitioning military talent leverage their transferable skills into service technician careers within the Peterbilt dealer network.
Transition Overwatch, a veteran-owned company founded in 2018, identifies high-potential veterans transitioning into the civilian workforce and serves as an intermediary between the veteran, special government programs, the Peterbilt Technician Institute (PTI) and Peterbilt dealers to facilitate their placement in service technician careers at dealer locations across the United States.
Transition Overwatch is supported by two government programs: SkillBridge and the Registered Apprenticeship Program (RAP). Peterbilt says SkillBridge provides an opportunity for active-duty military service members to participate in industry training programs while continuing to earn pay and benefits. The RAP allows service members to develop skills and required competencies desired in the civilian workforce and offers them a path to employment through training, the company says.
[RELATED: Industry involvement remains key to solving tech shortage]
"Peterbilt's partnership with Transition Overwatch helps us assist dealers in filling open service technician positions while also supporting veterans as they re-enter the workforce and search for rewarding career opportunities," says Jason Skoog, Peterbilt general manager and Paccar vice president. "Peterbilt has over 425 dealer locations in North America, and many are actively hiring service professionals. They offer competitive pay, flexible shifts and convenient work locations."
As part of the announcement, Peterbilt acknowledged the first program graduate, Cody Andrews. Cody is a Marine Corps veteran with 20 years of service who exits the military as a Motor Transport Maintenance Chief. He graduated from PTI's Lisle, Ill., campus at the end of June 2023 and has accepted a service technician position with TLG Peterbilt in Raleigh, N.C., one of its 24 locations.
"As I began my transition from the military, I wanted to find a career that I would enjoy and that kept me close to my family. I have loved Peterbilt trucks since I first saw my grandfather's Model 379, so I did my research on Peterbilt. I appreciated TLG Peterbilt's approach to family, veterans and customers and felt that it would be the perfect fit for me," says Andrews. "I am excited to secure my dream job working on Peterbilts and grateful to Peterbilt and TLG for this fantastic career opportunity."