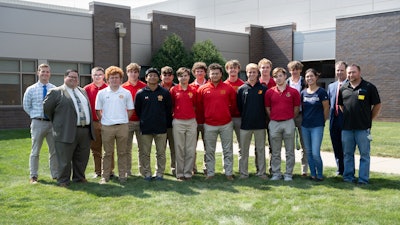 "I love it when a plan comes together." Especially when that plan strengthens a technical school for medium- and heavy-duty diesel technicians.
That's what they're saying in Pittsburgh this fall after stakeholders from industry and education joined together to create a partnership between a high school and technical school on a program that will offer high school students the opportunity to get a head start on their careers.
Pittsburgh's North Catholic High School and Rosedale Technical College are the schools involved and Point Spring & Driveshaft President Sean Ryan says their exciting new collaboration was several months in the making.
[RELATED: TMC panel demonstrates tools to tackle tech recruitment, retention]
A graduate of North Catholic himself, Ryan says he and fellow alum Hunter Truck Sales COO Ralph Fischer have always wanted to help expose students at their alma mater to the career opportunities found in the trucking space. Ryan says many students at North Catholic move on to traditional universities after high school, but the North Catholic School Board and President Joe Wilson have always believed it essential to provide other continuing education paths for students who may not matriculate to a four-year school.
"I've personally thought about it for quite some time. [North Catholic] has several alumni and parents who own businesses in the HVAC and trucking industries. They have expressed how hard it is to find good workers even though the jobs pay well," says Wilson. "We have so many good students here this seemed like a good opportunity to expose them to an alternative path compared to a traditional four-year degree."
Ryan says he and Fischer agreed that a connection between North Catholic and a technician program made sense, and this year, in cooperation with Wilson and Rosedale's team North Catholic was able to make that happen.
Beginning this fall, Rosedale is offering a skilled trades elective course to up to 16 North Catholic students, and one of the programs available to those students is a diesel technician track.
Those involved in bringing the program together are excited to see it underway.
Says Fischer, "The partnership between North Catholic and Rosedale is another means of a well-rounded education and bringing another option to high school students for a productive and prosperous future career."
[RELATED: The available technician pond is 'bigger than you think']
"[North Catholic] is fortunate to have Sean and Ralph serve as board members," adds Wilson. "We have had discussions about the absence of the trades in education in general and our school in particular. It was important to find a good partner and Rosedale has an excellent reputation. We wanted to make we could execute on what we were looking to provide to our parents."
Technicians are the lifeblood of service facilities, Fischer adds, and through this program, hopefully more students at North Catholic come to see the career opportunity available.
"In our industry it is very hard to put a price on 'trade' knowledge," he says. "Diesel techs/techs in general are in tremendous demand. On a monthly basis, we are looking for 20 to 50 techs companywide to fill all levels."
Adds Ryan, "Filling open roles for service technicians is probably one of the hardest roles to fill in our company. We could probably easily hire five or more technicians companywide without breaking a sweat. Rosedale and other tech schools like them provide a valuable pipeline of new technicians to fill exactly these types of roles."
Rosedale's commitment to diesel education isn't new. President Dennis Wilke says Rosedale has offered technician training since 1949. The diesel program was spun out of the automotive program in 2001 and, in 2008, the school added an evening program. Rosedale also has a 30,000 square-ft. shop, classroom and lab space where its diesel curriculum is taught, Wilke says.
Kara Chan, Rosedale's director of education and marketing, says the diesel curriculum is developed with input from industry to ensure it best prepares its students for their careers.
"Our local employers provide a significant amount of information in order to keep our programs relevant. We gather this insight through formal meetings with our program advisory committee, employer surveys, visits to employer locations, employer visits to the college, and individual conversations with employers. We also gather information from alumni who have first-hand experience with our program and the transition into full-time employment," says Chan.
She also notes the program isn't solely focused on turning wrenches or diagnostics.
"We are also provided guidance on the soft skills, employability skills that we need to train our students on. Teaching the technical skills is only part of what we do," she says. "We need to mentor or students in how to be successful in the work environment. We request support by asking employers to provide us with constructive feedback, which supports our value of continuous improvement. We ask employers to be a presence at the college through participation in recruit and employment events."
[RELATED: JE-CO owners bringing tech, business acumen to diesel shop floor]
Fischer and Ryan both support the school in this manner and attend career fairs at Rosedale and other area technical schools. The duo believe other dealers and service shops in the trucking industry should do the same in their communities.
Fischer says introducing student and parents to the industry at career fairs and offering job shadowing at shops are among the ways industry can expose itself to possible future employees.
Ryan agrees, urging other service shops to be active. "Don't be shy! Pick up the phone, ask for a meeting and network," with schools in your area, he says.
And Wilson notes there are a students intrigued by a trade career if they can be informed of those opportunities.
"My personal view is that college isn't for everyone. Especially now with the expense and debt load that many students graduate with. The trades provide a cost-effective solution to a rewarding career," he says.