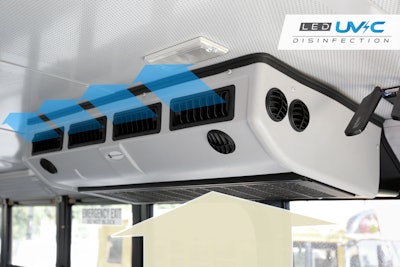 Grote Industries has developed a safe and effective UV-C disinfecting light for the HVAC systems on public transportation. By harnessing the power of UV-C light, Grote aims to help public transit and bus companies disinfect circulated air to keep people safe on the road.
The HVAC systems on most commercial passenger buses have no disinfection capabilities beyond simple filtration. In the dark, damp spaces of the evaporator compartment, viruses, bacteria, allergens, and mold can gather and grow, slipping through filters to circulate widely throughout the bus's ventilation system and passenger cabin. Grote says its UV-C light assembly installs quickly and easily into the HVAC system's evaporator compartment, safely functioning during normal bus operations to effectively destroy microorganisms as they pass through the evaporator.. 
Assembled in North America utilizing the latest generation of highly efficient and reliable LEDs, Grote adds its cutting-edge UV-C technology is carefully calibrated to deliver powerful, disinfecting UV-C light at exactly the right wavelength. Although mercury-vapor lamps have been used as a source of disinfectant UV-C light for decades, the company says new advances are leaving this technology in the past. With no fragile tubes of hazardous mercury to replace, and no bulky ballast and power inverters needed to function, Grote's UV-C LEDs offer a much simpler and easier solution.