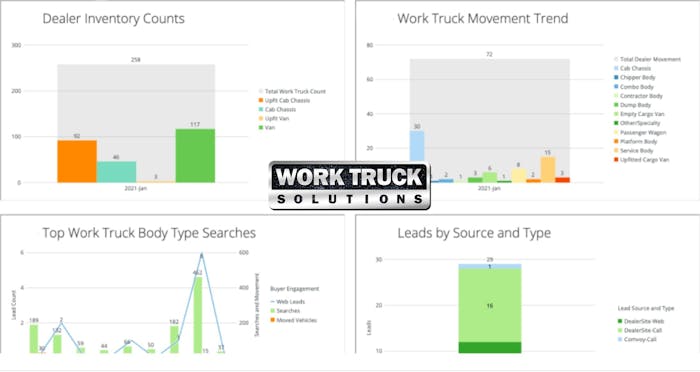 A new report suite created by Work Truck Solutions helps dealers gain actionable insights and improve decision-making for their commercial business, the company says.
Commercial Business Intelligence (CBI) is an on-demand suite that combines business analytics, data mining, data visualization and data tools coupled with best practices to help the dealer make more and better data-driven decisions.
CBI focuses on inventory (status, health, pricing, market trends, and stocking), buyers (traffic, leads, sources and engagement) and baselines (dealer scorecards and market data).
Dealers have been looking for the best way to respond to the newly disruptive world. Access to data will help them drive change, eliminate inefficiencies, and quickly adapt to market or supply fluctuations. By gaining flexibility, agility and awareness they can act early enough to make an impact, the company says.
"Now more than ever, dealers need fast access to actionable data to stay informed and to have the confidence to make daily business decisions in this rapidly changing environment. Through our new data suite, CBI, we're able to help dealers of all sizes gain visibility into their commercial business data as well as industry benchmarks so they can better manage the opportunities and challenges in front of them," says Kathryn Schifferle, founder and CEO, Work Truck Solutions.
Dan Bryan, general manager of Ricart To Business, Ricart Ford's Fleet & Commercial Business division, says, "Currently it's tough to analyze our commercial business separate from retail. So over the past year, our team, with a number of other dealerships, have been working with Work Truck Solutions to develop this new set of on-demand reports specifically designed to help us run our commercial business."