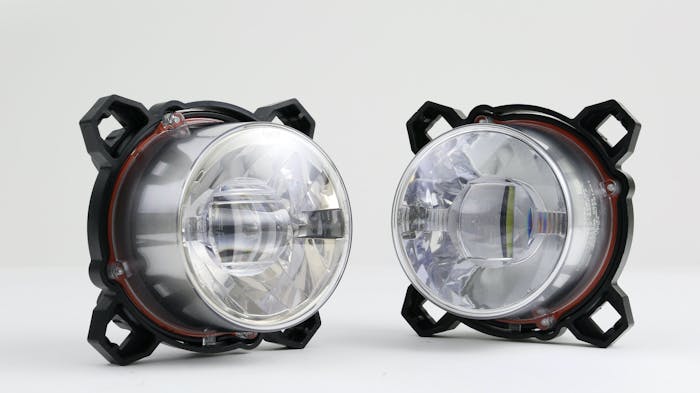 Grote Industries announced the newest members of its forward lighting family: the 90mm LED High Beam and Low Beam headlamps and the 90mm Combination High Beam/Low Beam LED headlamp module.
These new LED headlamps are as versatile as they are durable. Designed for heavy-duty applications, these FMVSS 108- and ECE-compliant, street-legal lights are equally at home off-road or on. From the harvester in the fields to the municipal bus or city work truck, Grote says the 90mm LED headlamps are the perfect high-tech, drop-in replacements for standard 90mm halogen or HID headlamps.
Grote's 90mm LED headlamps are durable, versatile, have a compact profile and are priced competitively, the company says. Tough enough to be featured on the newest line of ultra-rugged Western Star work trucks from Daimler Trucks North America, these headlamps are able to withstand the punishing conditions of any heavy-duty work site.
Grote's 90mm LED headlamps utilize the latest high-performance LED technology in conjunction with cutting-edge reflectors and lens optics, while providing drivers with unmatched performance and exceptional light patterns, Grote says.