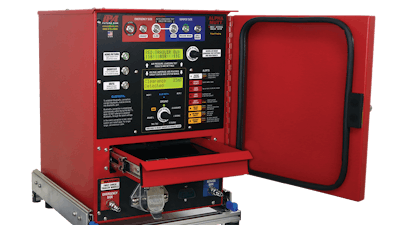 Innovative Products of America (IPA) introduces the next generation of its Alpha MUTT trailer testing technology, the #5600 Alpha MUTT Series.
Designed for the rigors of the service-truck work environment, IPA says each unit features anti-vibration feet and a weather-tight steel door that protects the waterproofed dual LCD screens, control panel, and integrated, wireless military-grade tablet docking station and remote-control. They can be easily installed onto a service truck — they are purposely built for underbody and side-mount toolboxes — and provide remote-control and tablet operations, troubleshooting, and digital recording of all trailer functions. They also provide trailer light, air brake, and ABS diagnostics with full reporting capabilities utilizing IPA's diagnostic software app.
"Service providers today need to complete trailer inspections in less time than ever before and their fleet customers expect a complete diagnostic scan and report," says Ian Vinci, president, IPA. "They need the right equipment that can do this reliably, efficiently, and accurately in minutes. The #5600 Series addresses all these key areas and more. With our three-year warranty, unmatched service support, online training, and multiple upgradeable features, these units are essential for anyone looking to outfit a mobile-service truck."
The #5600 Alpha MUTT Series units are fixed, stationary testers designed to fit into underbody or side-mount toolboxes, IPA says. They feature an upper LCD screen dedicated to air pressure readouts and a lower LCD screen for light and ABS diagnostics.
IPA adds the integrated drawer offers custom foam storage for small accessories and charges the military-grade rugged tablet when equipped. Various configurations and accessories are available for different needs and price points, including a slide-out base for easy access to side components, front or side port locations, rugged tablets, and more. IPA adds each unit comes equipped with all the mounting hardware, drill templates and complete installation instructions.