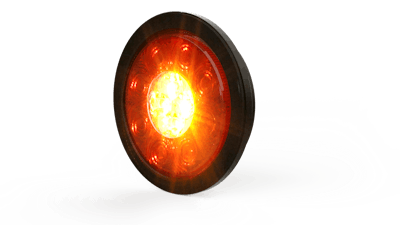 ECCO Safety Group
The stop-tail-turn light is one of the oldest safety devices still used on every vehicle on the road today. With modern LED technology and advancements in engineering, ECCO has introduced the next generation of this warning light.
The ED3040AW and ED3060AW combine stop-tail-turn, reverse and warning functionality into compact housings. The devices are efficiently designed to meet the safety need regardless of the application. ECCO's newest lighting products are available in either a circular (ED3040AW) or oval shape (ED3060AW) and feature identical capabilities, the company says.
Each are designed to install in standard taillight applications with grommet or flange mount options. Choose between PL3 or AMP connectors that simplify the install. ECCO's LED lighting is designed to operate under the most extreme working conditions. The ultrasonically sealed housing and tough polycarbonate lens prevent moisture ingress while resisting wear and tear from prolonged vibration and heavy use, ECCO says.
Beyond the ruggedized design, the integrated warning light provides an added layer of visibility to alert work crews and the public while on the job. The dual-color light heads produce 69 flash patterns, with white and amber colors, that are sure to grab their attention. The ED3040AW and ED3060AW are economical, all-in-one solutions for workers and fleet managers that require enhanced safety lighting and have limited vehicle surface area with which to work. Backed by a five-year, no-hassle warranty with customer and technical services, customers can upfit with confidence and get back to work with minimal lead time, the company says.