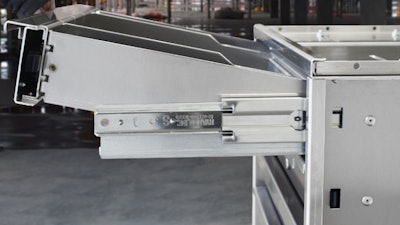 EZSTAK
EZ STAK has added an all-new line of heavy-duty removable drawers to its series of aluminum service body storage systems.
Each of these rugged drawers can be quickly taken out and brought to the worksite. This not only helps with efficiency on the job, but also makes installation easier, the company says.
"We initially custom-made these for a client, but we quickly realized that they would likely appeal to a lot of people because they're so durable and so easy to take out," says Calvin Lawrenson, EZ STAK business development coordinator. "There's no more back and forth to the truck with these — you can take all of your tools with you."
As with most of EZ STAK's drawer solutions, these are made with 10-gauge aluminum and come equipped with 500-lb. capacity slides, adjustable tops to fit the truck compartment and built-in risers. The company says each drawer also has a one-handed latch for easy opening and closing as well as a secure lock that engages once the drawer is slammed shut. Plus, if the truck compartment has a step, these drawers can be built with a notch cut-out to maximize space and make installation a lot easier.
EZ STAK says it offers the heavy-duty removable drawers in nine sizes, but its design team can also deliver a custom solution. And just like all of the company's drawer systems, these come with a lifetime warranty on all manufactured parts.
"We think these will be a gamechanger for quite a few customers," says Lawrenson. "We kept hearing that one pain point for some was just how difficult it is to take out drawers if they want to bring a bunch of tools with them. Well, with these, now they can. And because the drawers are lightweight and tough, they're easy to remove and you don't have to worry about putting them through a lot of abuse."