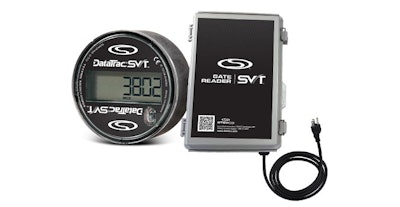 STEMCO introduces GateReader SVT as an addition to its current mileage solution product portfolio.
GateReader SVT, coupled with the usage of DataTrac SVT, is designed to provide data to fleet managers wirelessly and automatically to improve maintenance practices and increase fleet safety. With this launch, STEMCO adds it also is introducing STEMCO Vehicle Technology (SVT) to the market, a denotation which indicates the product is equipped with smart technology.
STEMCO Vehicle Technology is launching with a group of mileage solution products — including GateReader SVT, and the newly rebranded DataTrac SVT and WebPortal SVT:
GateReader SVT: This product attaches on or near the gate at the entrance of the yard and wirelessly captures readings from the DataTrac SVT attached to each vehicle's wheel end, requiring no trenching or hardwiring.
DataTrac SVT: This product attaches to the wheel end on a vehicle and captures highly accurate mileage activity. Fleet managers can then use this data to manage mileage and fuel information as well as schedule maintenance. Data can be wirelessly transmitted to the GateReader SVT or a third-party telematics provider. This product has been manufactured by STEMCO up until now under the TracBat name.
WebPortal SVT: This is the software program that receives all the data collected by the GateReader SVT. Fleet managers can analyze and download the data from their WebPortal SVT login. This software has been licensed through STEMCO and was available previously under the name WebBat.
"With better access to data, the SVT Mileage Solutions line helps improve maintenance efficiency, with our ultimate goal of increasing fleet safety," says Chip Stuhr, vice president, sales and marketing, STEMCO. "We're providing the data to ensure that fleet managers can streamline maintenance to get the most out of their assets. The open architecture of STEMCO Vehicle Technology gives fleets the flexibility to capture data at a local or global level, with or without a telematics system."
The company says more SVT product offerings will be expanded over time to include additional products featuring smart technology.