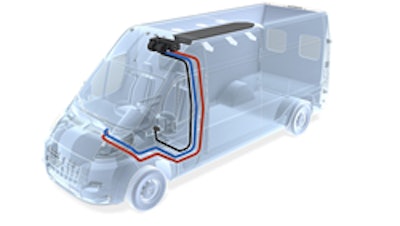 Webasto North America has introduced an a la carte aftermarket van HVAC kit-building system.
An industry first, Webasto says its novel, menu-driven approach allows customers to upfit Ford Transit, RAM ProMaster or Mercedes Sprinter vans with auxiliary HVAC systems faster, while carrying less inventory and all at a lower cost.
The company says until today, those in the market for auxiliary, tie-in heating/cooling or stand-alone HVAC kits for today's most popular commercial van makes and models would have to first obtain a model-specific kit designed to fit that particular vehicle. However, with the popularity of vans and the variety of models out there, chances are that one of the 25 to 30 most popular kits might not be in inventory locally or otherwise readily available.
"Webasto has been making aftermarket van HVAC kits for years, and we alone made 22 separate systems, each designed to fit the leading van makes and models," says Mike Cicioni, HVAC application manager. "Our systems work seamlessly, but our distributors had to carry multiples of all 22 kits if they wanted to be stocked and ready to meet the marketplace variables."
Webasto realized many of the HVAC components they were using to make their kits were common among varying makes and models, and that others were purpose designed and manufactured. They also realized that unbundling the components might make it easier for body builders, upfitters and fleets to all get what they wanted with more speed and consistency.
"Our objective was to find a way to remove the burden from our customers, enabling them to carry a reduced inventory of the constituent components, instead of 22 or more vehicle-specific kits," says Cicioni. "Essentially, the concept was to provide lower-cost unbundled components that could later be re-bundled, based solely on application and demand."
Webasto engineers set out to reexamine each system and component, in an effort to minimize variability and optimize application performance.
The company says its new a la carte product enables Webasto to cover 90 percent of the van market with approximately 30 a la carte HVAC components. With Webasto's system, its customers carry less inventory, while increasing their ability to be more responsive to fluctuating demand. The system also puts its customers in a more favorable position to capture a wider variety of work truck applications beyond Webasto's existing van-specific HVAC kits, the company adds.
"We've taken a complex task and made it easy for customers to check a few boxes and specify an HVAC system that is precisely optimized for their unique application," says Matt Wheeler, head of HVAC – light and medium duty. "We did the hard work to make our customers' work easier."
For large-volume customers and specialty on-road vehicle manufacturers, Webasto will still provide the direct support and customized application solutions they've always enjoyed. Webasto's team of experts will deploy to a customer's production facility and after observation, will produce a custom bill of goods as needed.
"We've designed, engineered and brought to market a system of exceptional quality that is easy to specify and install, and all at a competitive price," says Wheeler. "Webasto's A La Carte Aftermarket Van HVAC Kit-Building System will quite literally change the status quo in the aftermarket auxiliary van HVAC segment, and that change will be better for everyone involved."