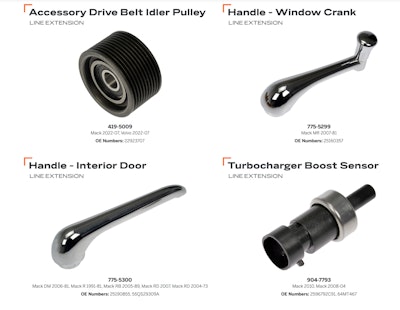 Dorman Products recently announced the availability of several new parts and products.
New products include wheel hardware cabinets, window cranks and door handles, accessory drive belt idler pulley and a turbocharger boost sensor.
The wheel hardware assortment contains a variety of wheel hardware to fit multiple vehicles and wheel types. Made of quality materials to ensure safety and durability, this assortment is a convenient way to ensure the right hardware is on hand. The wheel hardware cabinets come in 4- and 8-drawer models.
The replacement accessory drive belt idler pulley has been engineered to match the function and performance of the original pulley on select vehicle years, makes and models, properly restoring critical vehicle operations.
Worn or broken window crank handle leading to difficult window operation? Made of durable material for reliable performance, this window crank handle replaces the original equipment handle, the company says.
The turbocharger boost sensor is for certain trucks.