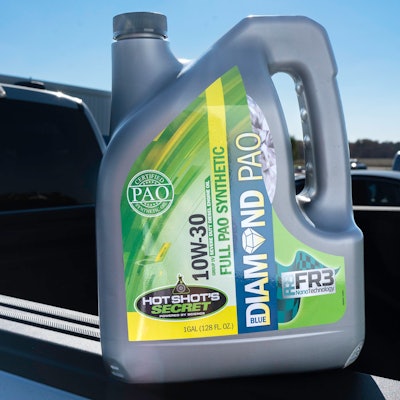 Hot Shot's Secret announced it has expanded the Blue Diamond PAO diesel engine oil line with a new 10W-30 offering for heavy-duty diesel-powered vehicles.
All Hot Shot's Secret Blue Diamond Oils utilize 100 percent poly-alpha-olefin (PAO) Group IV synthetic oil and high-quality Group V esters for a 100 percent synthetic formula. Previously introduced in two viscosities, 15W-40 and 5W-40, this new 10W-30 viscosity expands the Blue Diamond oil line to meet additional engine oil specifications.
By using 100 percent synthetic Group IV and Group V base oils, a robust CK-4 additive package, and the infusion of patented FR3 nano lubricant technology, Blue Diamond PAO 10w-30 oil provides an unsurpassed level of longevity and performance unlike other synthetic oils. Benefits include improved starting, increased power and fuel economy, reduced soot, extended engine life and reduced friction, the company says.
With improved oxidation, shearing and thermal stability, Blue Diamond 10W-30 is a more fortified oil than competitive brands that resists breakdown allowing for longer drain intervals; all while reducing engine wear up to 71 percent better than CJ-4 specifications.
Oil change intervals can be extended up to every 50-100K miles if the oil is monitored every 10,000 miles for the Total Base Number (TBN). This oil also requires a very small amount of viscosity improvers to meet the weight specification, allowing it to be formulated with additional additives to improve performance, the company says.