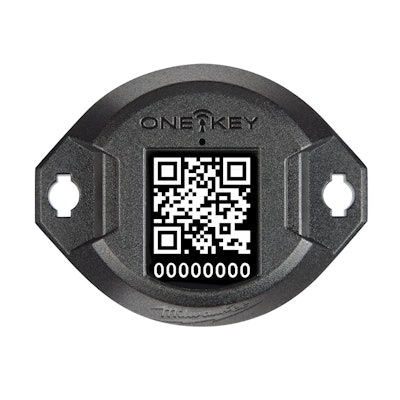 Milwaukee Tool announces it continues to innovate in connected technology with the new ONE-KEY Bluetooth Tracking Tag. Backed by ONE-KEY tracking network, users can easily attach the Tag anywhere, add to their digital inventory and track what matters most from a computer, tablet or smartphone.
"Whether one tool, or an entire crib of valuable tools and equipment, it is important for users to protect their investments and reduce the downtime that can come from looking for lost items," says Andrew Lambert, director of product, Milwaukee Tool.
"By leveraging the ONE-KEY network and Bluetooth technology, the Tag provides accurate information on the last seen date, time and location of a tool when within 300 ft. of any ONE-KEY device, and offers additional key features that can help users manage their inventory," Lambert says.
Once activated, the One-Key app will not only keep track of the tracker's last known location, but will also have a 30-day history of everywhere it has been seen by anyone in the ONE-KEY tracking community. For added clarity, an accelerometer provides information on the last time that equipment was used as well. Furthermore, the owner can easily identify their equipment even if it cannot be visibly seen, with a new built-in speaker to ring their tag and locate it within 50 ft. Lastly, a built-in NFC and a scannable QR code make for a simple 2-step activation, and allow the user to quickly identify a specific item even when the One-Key app is closed.
Built with a compact design for extreme versatility to go anywhere, the Tag can securely attach to anything through glue, screw, rivet or zip tie to track more items. A durable and weatherproof construction ensures the ability to withstand job site abuse, shock, drop and extreme temperatures. Powered by an internal battery with a 3-year run time, the user can set up the tag once and alleviate the risk of breakage associated with replacing a battery.
The ONE-KEY™ Bluetooth Tracking Tag will be sold in 1-pack, 2-pack or 10-pack options, and is a true testament to Milwaukee's focus and investment on connected technology, the company says.