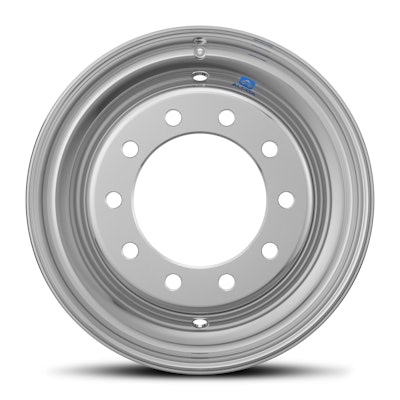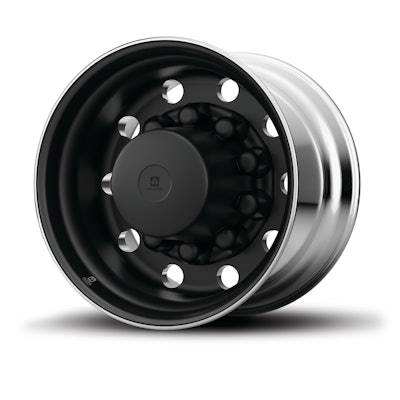 Alcoa on Tuesday at the Technology and Maintenance Council's 2022 Annual Meeting & Transportation Technology Exhibition in Orlando rolled out a new 22.5" x 8.25" wheel – ULT36x – and the lighter Alcoa 22.5" x 14" widebase wheels, 84U61x and 84U64x.
At 36 pounds and a 7,400-pound load rating, the Alcoa ULT36x 22.5" x 8.25" wheel is three pounds lighter than its predecessor, and is equipped with proprietary MagnaForce alloy. The lighter weight equates to a savings of up to 0.9 gallons of fuel per 1,000 miles when converting from steel to aluminum on all positions, according to Alcoa.
The wheel is available in High Polish and Mirror Polish finish and Dura-Bright and Dura-Black surface treatments.
The new Alcoa ULT36x wheel also features vHub Bore Technology, which reduces hub-to-wheel contact area by up to 64% versus other aluminum wheels on the market, leaving less surface area for corrosion to form. In addition, it is offered with a unique valve access designed for ease of inflation and pressure checks in all positions. The system works with ATIS and Halo Tire Inflator and brings both the inner and outer dual valve into the wheel well for improved access.
Now at just 49 pounds – three pounds lighter than its predecessor and made with Alcoa's proprietary MagnaForce alloy – the new 22.5" x 14" wheel provides a 12,800-pound load rating. Weighing significantly less than a comparable steel wheel, fleets will save over 1,400 pounds when converting from steel dual wheels and tires on a tractor and trailer.
Alcoa Wheels' wide-base wheels are available with dual valves. Featuring a second valve stem, a Tire Pressure Monitoring System (TPMS) sensor can operate on one valve while air pressure is serviced on the other. No disruption due to equipment removal during airing up or maintenance means added peace of mind and optimum efficiency.
The 22.5" x 14" wheel is offered with Alcoa's Dura-Black surface treatment on both sides for flexibility of mounting in steer or drive position making both ordering and installation easy. Wheels are also supplied with color-matched components including a black valve stem, and a precision, laser-etched logo.
Alcoa adds aero wheel covers
Also Tuesday, Alcoa debuted its Aerodynamic Solutions: steer wheel covers and the drive wheel cover plus wheel. The new products add aerodynamic advantages to Alcoa wheels.
The Aerodynamic Steer Cover features a patent-pending design and is engineered specifically to push air away from the tire/wheel and vehicle, limiting aerodynamic drag. Rigorous testing, including Computational Fluid Dynamics (CFD), wind tunnel and test track analysis, the new cover enhances performance as compared to a full-wheel cover or no cover at all. Tests verified fuel savings of up to 0.35 gallons of fuel per 1,000 miles and an estimated $120 annual fuel savings per truck based on 100,000 miles per year.
The Aerodynamic Drive Cover + Wheel features an exclusive cover plus wheel system. The cover is designed for the 22.5" x 8.25" and 22.5" x 14" wheels (part numbers ULA18x, 84U61x and 84U64x) and is also affixed to a ring, which is secured in the flange groove of the wheel, leaving the hub unburdened by heavy brackets and ensuring appropriate mounting consistency and for maximum results. Additionally, the cover features a 9-inch inspection opening, which allows for a clear view of all wheel-end components, eliminating the need for wheel cover removal during pre-trip, post-trip, road-side inspections and tire inflation.
Alcoa says the package saves up to 0.96 gallons of fuel per 1,000 miles and an estimated $350 annual fuel savings per truck based on 100,000 miles per year.