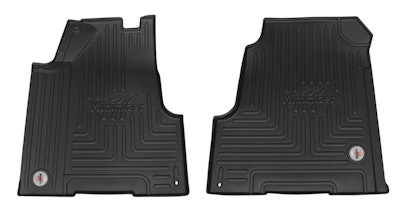 To keep up with demand, Minimizer announced it is releasing five new floor mat kits for Western Star trucks.
"When Western Star reconfigured their cabs in 2019, we worked hard to ensure all subsequent models would be covered with new Minimizer floor mats, and I'm happy to say we've done that," says High Bar Brands Director of Marketing Steve Hansen.
The 4700SB, 4700SF, 4800SB, 4800SF, 4800TS, 4900EX, 4900SB, 4900SA, 4900SF, 4900XD and 5700XE are all included in this product line extension. Interested parties can visit the floor mats page of Minimizer's website to find specific part numbers related to those models, the company says.
"We have everything from 2020-2022 covered," Hansen says.
The 2020-2022 models now covered with tray-style, custom-molded floor mats. Floor mats have been a huge hit for Minimizer — now a part of High Bar Brands — since they first debuted in 2013.