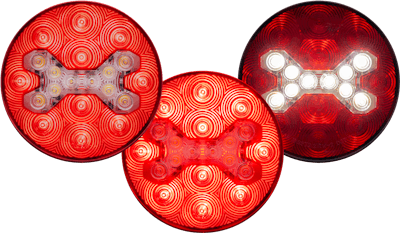 Optronics International introduces its uniquely styled STLW and STL FusionX family of combination stop, tail, turn, backup and warning lights.
Featuring a signature "X" LED lighting array in their centers, and available in eight SKUs, the FusionX lamps are the newest members of Optronics' popular Fusion Series combination lamps.  
Until now, combination lamps with warning light features have not met FMVSS 108 standards, because their flashing warning lights continue to operate even when their brake lights illuminate. The dual illumination patterns of these noncompliant lamps have the potential of confusing others on the road, by presenting them with mixed signals. The issue made these lamps impractical for many vehicles, particularly those in the utility, construction and roadside service sectors.
Optronics says its FusionX LED combination lamps solve this problem by disabling the warning light function as soon as the brake light is illuminated. The warning override feature helps eliminate potential misinterpretations by others on the road or worksite and allows the FusionX to fully meet FMVSS 108 requirements. The lamps also meet the SAE J595 standard for Class 2 and Class 3 directional warning lamps.
"Optronics' new FusionX gives fleets all of the benefits of a multifunction combination lamp in addition to being DOT compliant in all modes of operation," says Marcus Hester, chief marketing officer, Optronics International. "Not only is this a highly functional and compliant light, but its stunning x-shaped central LED array is not only stylish, but attention getting." 
With four preprogrammed flash patterns to choose from, the FusionX STLW lamps, with their warning light, have what it takes to meet the task at hand. Optronics says their centralized x-shaped LED array serves as both a white backup light and a white, amber or alternating white and amber warning flasher with two cadences to choose from. Multiple lamps can be wired to operate flashers either asynchronously, or be connected, allowing users to achieve synchronized illumination patterns. STL versions of the lamp are also available without a warning function, the company adds.
The lamps come in grommet-mount versions, as well as surface/flange-mount versions. The STLW314MSHB is also available in the STLW314MGHB grommet-mount version. The STL316MSHB is also available in the STL316MGHB grommet-mount version. The STL314MGHB is also available in the STL314MSHB surface/flange-mount version. The STLW316MGHB is also available in the STLW316MSHB surface/flange-mount version.
The lamps come hardwired and ready to install. As an integrated electrical system solutions provider, Optronics says it is also able to configure the lamps with industry standard connectors by request. FusionX lamps are available in both bulk and polypack packaging.
"The FusionX family of LED lights was designed to be compact, highly functional and exceptionally attractive," says Hester. "The lights specifically address multiple industry lighting needs that were not being met – and look slick doing it." 
The new STLW and STL FusionX family of combination stop, tail, turn, backup and warning lights are available in sample form now and are expected to be commercially available for shipping in the fourth quarter of 2022, Optronics notes.