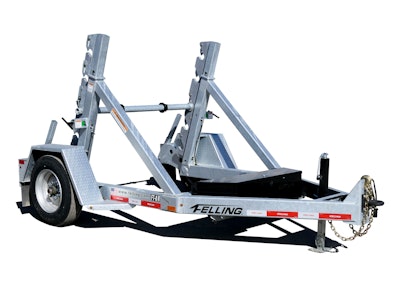 Felling Trailers says its new Utility Cable Reel "R" series model lines have undergone design modifications to increase operator safety and ease of use.
The most significant update to the model design is the auto-locking reel bar system. The auto-locking reel bar system eliminates the use of pins and brackets; it now utilizes a locking plate system, the company says. The R series product line also offers payload capacities ranging from 1,740 lb., to 13,520 lb. All models have the capability to load up to a 120 in., diameter reel.
The new R series design was released into production in fall 2022 and will reach full production by the first quarter of 2023. Solid and reliable, Felling's R series continues to offer a broad selection of options and features to ensure the trailer is built to the spec that utilities/municipalities need for their applications, the company says.
"These are quality-built trailers that provide the versatility and functionality that utility workers need for transporting, deploying, and retrieving material," says Felling Trailers Utility & Telecom Product Specialist Mark Rapp.