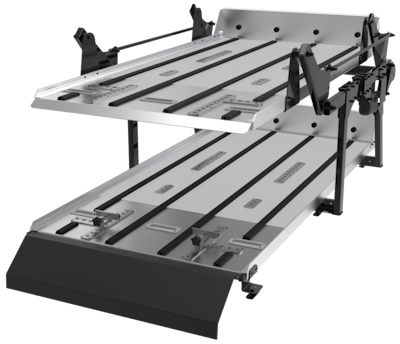 Link CMP has announced the introduction of its new DD-EX2 Double-Deck System engineered exclusively for the Mercedes-Benz Metris.
Link says it created the industry's first engineered, purpose-designed, professional transportation solution for human remains, and the company was the first to introduce the concept of a double-deck system. The DD-EX2 is Link's latest innovation and the first and only double-deck system engineered to fit a mid-sized cargo van.
"Link's DD-EX2 promotes professionalism, increases vehicle capacity and maximizes asset utilization," says Lynn Blake, national account manager CMP products, Link Manufacturing. "The DD-EX2 enables a mid-sized van to do the work of two of its kind – or that of a much larger vehicle."
According to Link, the unique system design requires just one operator and doubles the carrying capacity of the popular Mercedes-Benz Metris. In a time of increasing fuel and labor costs, and in the midst of a continuing shortage of full-sized vans, the DD-EX2 increases worker and vehicle efficiency, effectiveness and productivity by increasing capacity while decreasing labor and mileage costs.
Additionally, the DD-EX2's electric-powered, 600-lb., capacity upper deck raises and lowers within seconds, enabling one operator to load four cots, three cremation containers or two air trays. Interchangeable and adjustable bier pins and polyethylene strips allow the management of different mortuary containers on both lightweight all-aluminum decks.
"As the architects of the industry's first engineered professional transportation solution for human remains, Link is the leading innovator in this space," says Blake. "The DD-EX2 Double-Deck System is the result of the company's relentless and never-ending research into the needs of funeral service professionals and the organizations they serve."