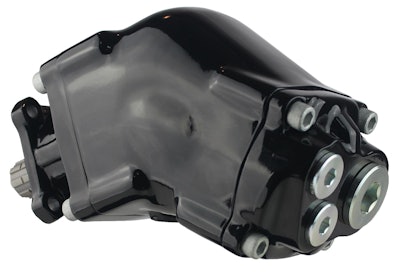 Eaton has expanded its aftermarket mobile power portfolio to include a new electrified power takeoff (ePTO), an FR2 twin-flow piston pump and an 8-bolt adapter for Detroit DT12 transmissions.
"The addition of these new products builds on our strategy to become a 'one-stop' shop for all our customers' mobile power needs," says Tim Bauer, vice president, Aftermarket, Eaton's Vehicle Group, North America. "We continue to add high-demand products to support our customers with a portfolio of parts for their mobile hydraulic applications."
Eaton and Bezares worked together to develop an ePTO for electrified vehicle (EV) platforms. The new ePTO is designed to integrate with the EV chassis battery system and features a customizable flange and standard input interface to increase the flexibility and configurability of any electric work truck running mobile power hydraulic systems, Eaton says.
Additionally, Eaton says its twin-flow piston pump from Bezares is designed to have a smaller footprint for better on-vehicle fit, with fewer rotating parts that will extend life and durability under continuous duty cycles. Eaton says twin-flow pumps are typically used when more than one output needs to run simultaneously, such as for crane, fire truck and military applications, where performance and reliability are essential.
"The nodular cast iron used to produce the pump results in a stronger design and reduced wall section for lighter overall pump weight, and a smaller frame size to fit in those tighter areas," says Brad Gulick, commercial product manager, Eaton's Vehicle Group North America. "Additionally, a nitrocarburization treatment reduces friction and provides improved corrosion resistance in extreme applications and climate."
Finally, the Bezares 8-bolt PTO adapter enables users to mount an 8-bolt PTO to the bottom location of a DT12 transmission that enables the use of Bezares 2000, 4100 and 8500 series PTOs, designed for heavy-duty applications such as large blower or vacuum systems.
"In addition to our 120X rear-mounted PTO, our customers can now spec a variety of Bezares PTOs for the bottom location of their DT12 transmissions," Gulick says.