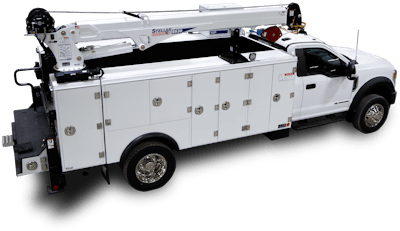 Stellar introduced the TMAX 1-13 at Work Truck Week 2023.
The new 13-foot aluminum body offers additional compartment storage and is intended for a 108-inch cab-to-axle chassis with a 22,000 to 22,900-pound gross vehicle weight rating, such as the Ford F600 or the Chevrolet 6500.
[RELATED: Stellar announces service van upfit solutions]
"As the needs of our customers evolve, we strive to make smart advancements in our products to ensure we can continue to be the preferred choice for mechanic trucks," says Stellar Product Manager Adam Opperman.
The TMAX 1-13 is ideal for cranes up to 53,100 foot-pounds and includes a Stellar Torq-Isolator torsion box understructure and crane compartment. This feature isolates the crane's lifting forces into the stabilizers and chassis frame rather than onto the storage compartment, avoiding unnecessary twists to the truck's body and doors.
TMAX bodies also feature aluminum extrusion compartment tops with two built-in accessory mounting rails that eliminate the need to drill holes in the compartment tops, allowing for easier and faster mounting and relocation of accessories. Aluminum truck bodies also have an overall reduced weight in comparison to their steel counterparts, allowing for more payload.