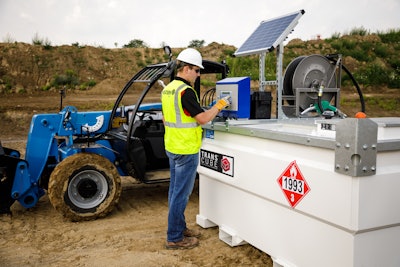 Western Global offers accessory packages for FuelCube and TransCube fuel tanks that are designed for customer convenience, the company says.
"At Western Global, we know our customers aren't just buying a tank, they're buying a system," Jeff Lowe, vice president of product marketing at Western Global, says. "What they need is a tank with all the trimmings that meets their needs so when it arrives on the jobsite, all they have to do is add the fuel. We've thought through all the use cases and identified accessories and packages that the user will need."
Pump kit assembly packages can include basic pumps, hoses and nozzles to options such as filter kits, hose swivels and digital meters. Remote power kits are also available for sites with limited or no power, as well as soft-walled, arctic and marine hoses with quick couplers for feed and return applications.
Western Global also offers safety and compliance packages that include emergency venting kits, placards, fire extinguishers and packages that can help manage fuel levels and track usage.