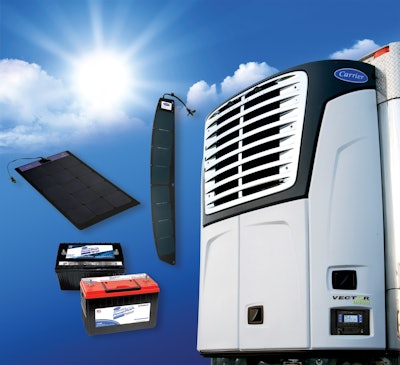 Carrier Transicold's BluEdge service platform now covers a premature failure of transport refrigeration unit (TRU) batteries, provided the TRU is supported by a Carrier Transicold solar charging system.
"This industry-leading coverage for refrigerated trailers can significantly reduce the risk of premature battery failure while also assuring the battery will be quickly replaced -- hassle free, parts and labor included -- by Carrier Transicold's extensive dealer network throughout the U.S. and Canada if it fails to start the TRU within the contract coverage," says Stuart Johnson, BluEdge commercial lead for Carrier Transicold.
[RELATED: Carrier launches single-temp reefer units for Class 5-7 trucks]
Carrier says that during long dwell periods, even fresh TRU batteries can be drained by peripheral devices such as telematics systems.
"Our TRU battery protection option helps avoid a leading reason for emergency call-out service, premature battery failure because an out-of-service TRU simply ran out of fuel and couldn't charge the battery via its alternator," Johnson says. "Solar panels maintain battery charge without requiring the TRU to run, saving fuel, ensuring uninterrupted performance and helping fleets avoid these inconvenient and potentially costly situations."
[RELATED: Carrier Transicold offers new, engineless units]
TRU battery protection requires a Carrier Transicold unit to have:
A BluEdge Core or Elite service plan.
A PowerRush wet cell or PowerRush Platinum (AGM) battery.
A Carrier Transicold solar charging system.
The TRU battery protection plan also extends the standard warranty of PowerRush wet cells from 18 months to two years. It applies to X4 7000 and Vector 8000 series trailer units, Vector HE 19 and 1550 intermodal systems, and the Solara heating unit. Coverage can be applied to existing TRUs already equipped with the Carrier Transicold solar charging system and PowerRush batteries.