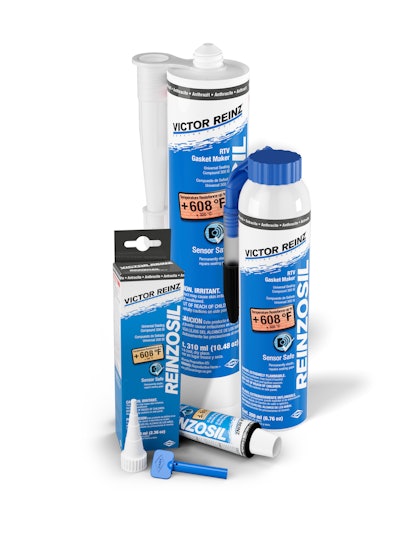 Dana Incorporated has introduced two new sizes of its Victor Reinz Reinzosil room-temperature vulcanizing (RTV) silicone.
Originally available in 70 milliliter tubes, Reinzosil sealant is now also offered in 20 milliliter cans and 310 milliliter cartridge tubes for larger jobs.
A one-product solution that can take the place of more than a dozen RTV varieties, Dana says Reinzosil sealant is resistant to fluids, including mineral oils and synthetic oils, lubricants, gasoline, diesel oil, greases, water, and detergents and is safe for all sensors. It is ideal for use on two-dimensional flat surfaces where there is a sealing gap, such as gasket intersections and components originally sealed with RTV by the manufacturer, including intake manifolds, valve covers, and oil pans.
Dana says Reinzosil RTV silicone provides superior resistance under load, even at high temperatures. It is very suitable for rough sealing surfaces and can be used universally for all motor and vehicle makes. Unlike other RTV products, which may incorporate plasticizers of minor quality such as calcium carbonate or limestone, the company says Reinzosil sealant will not shrink or lose weight in high-heat environments.
"As one of the world's leading manufacturers of gasket and sealing technology, Dana is proud to offer the industry-leading Victor Reinz Reinzosil brand on its DanaAftermarket.com e-commerce platform," says Bill Nunnery, senior director, sales and marketing, global aftermarket for Dana. "Reinzosil is ideal for sealing surfaces in engines, transmissions, axles, cylinder liners, and plastic housings on their vehicles. Now available in three sizes, this RTV silicone solution helps streamline ordering and reduce on-hand inventory, saving both time and money."