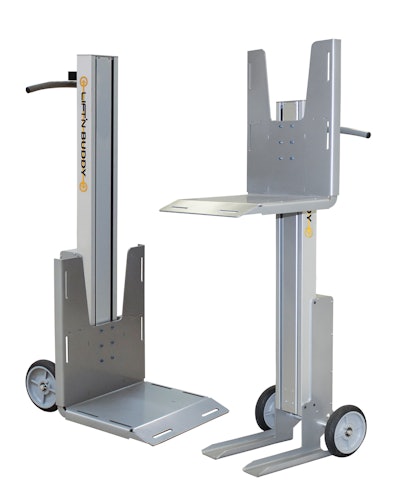 Presto ECOA introduces its new Lift'n Buddy LNB-2 two-wheel hand trucks, which the company says take mobility to a new level. The new hand trucks combine the convenience, versatility and ease of use of a two-wheeler with the lifting and lowering capabilities of a compact powered stacker.
At the touch of a button, Presto ECOA says the LNB-2 platform raises loads up to 200 lb., from floor level to over three feet high. This vertical load positioning capability dramatically simplifies the task of transferring items from floors to shelves, workbenches, conveyors, processing equipment, and vice-versa, Presto ECOA says. They are also ideal for loading and unloading delivery trucks and work vehicles. The unique design of the LNB-2 enables it to be completely free-standing, even when fully loaded and raised, allowing workers to easily slide loads onto or off of the platform, the company adds.
The Lift'n Buddy lift mechanism is comprised of a timing belt drive that is quiet, quick, and responsive. Power is provided by two 12-volt batteries that are easily recharged with a built-in 110V charger.
Two additional Lift'n Buddy models are available. The company says the LNB Pail Lifter has a specially designed lifting yoke for handling five-gallon pails (up to three at a time). The LNB Keg Lifter is equipped with a u-shaped bracket to hold any size or shape keg safely and securely during transport or lifting.
All three units are built on a durable lightweight aluminum frame with a powder coat finish, the company adds.