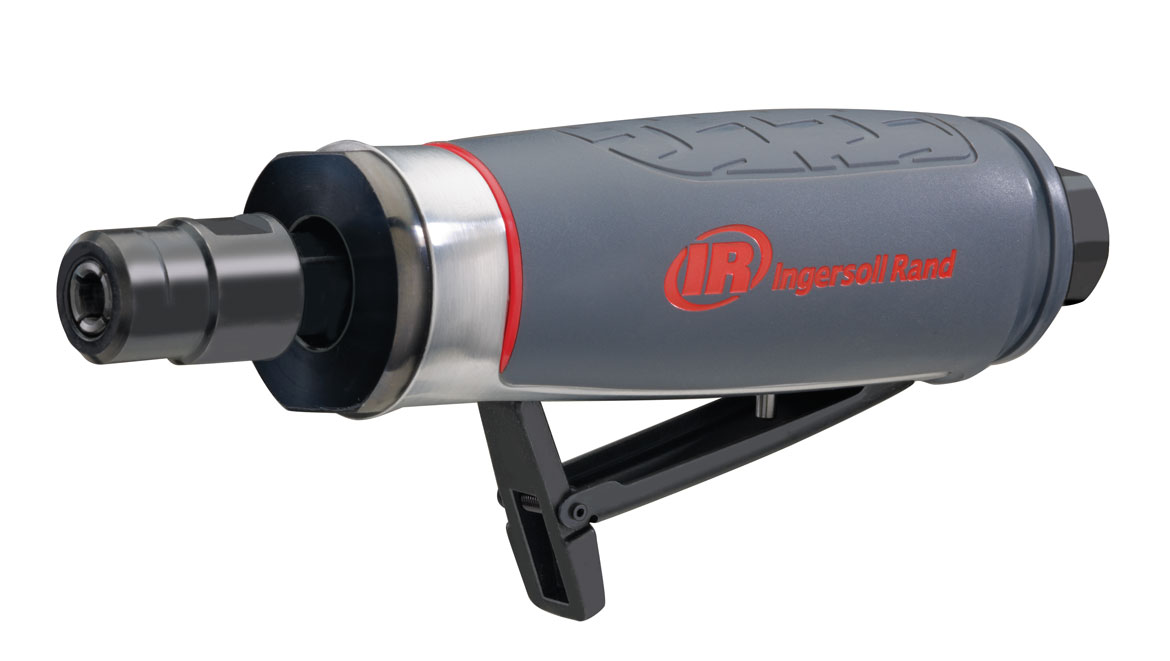 Ingersoll Rand has added the 5102Max angle and 5108Max straight die grinders to its Max lineup of vehicle services tools. According to Ingersoll Rand, grinders deliver the power technicians need to complete tough material removal jobs quickly.
The 5000 Series Max die grinders are said to offer 0.4 hp and 20,000 to 25,000 rpm motors, respectively. Each die grinder comes with a ¼ in. and 6mm collet. They also feature an enhanced grip design, which the company says allows operators to run the tool for an extended period of time without fatigue.  The 5102Max has an spindle lock feature as well that the company says allows operators to change out the abrasive, without the use of a second wrench, for faster abrasive changeovers.
Ingersoll says Max die grinders are ideal for challenging maintenance and collision repair applications including: descaling and deburring, prepping materials prior to painting, buffing, sanding, cutting, removing adhesive and gasket materials and for cleaning up brake hubs. The tools' lube-free motor design is said to eliminate oil contamination in the work environment and does not require daily lubrication, like many competitive products. Also, a piped-away exhaust kit comes standard with each tool.
"If you have a job where you're working on a newly repaired fender — and you don't want to have oil splatter as you smooth out the surface and prepare it for primer and paint, you can turn off the oiler or the lubricator and run the tool," says Andrew Mandel, product manager — surface prep and construction tools, Ingersoll Rand. "The tool can function in a lube-free state without causing damage to the motor."
Ingersoll Rand says it also has refreshed its general purpose 300 Series die grinders to complete its good, better, best die grinder tool portfolio. The new 301B and 302B air angle die grinders and 307B and 308B air straight die grinders are said to have improved designs and convenient upgrades. The company says the redesigned 300 series die grinders deliver solid performance at an economical price. They also feature two different motor sizes.