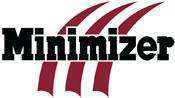 Minimizer has opened a new 7,000 sq. ft. shipping facility on its corporate campus in Blooming Prairie, Minn.
"We have a commitment to our customers to provide quick turnaround on orders," says Craig Kruckeberg, Minimizer's chief visionary officer, "Our volume of sales was reaching a point that necessitated an investment in our shipping space to maintain our commitment."
Tyler Kruckeberg, Minimizer's shipping manager, designed the building, which features state-of-the-art workflow patterns and control stations, the company says.
"It's great to see the company make these strides so we can continue being world-class
in every facet of our production process right down to the critical shipping function," he says. "The new shipping building features work area pods for each product, more space for on-hand inventory so we can ship quicker, state-of-the-art technologies, new shipping efficiencies and improved processes to serve our markets better."
Minimizer says the facility was designed in a year and constructed in eight months.