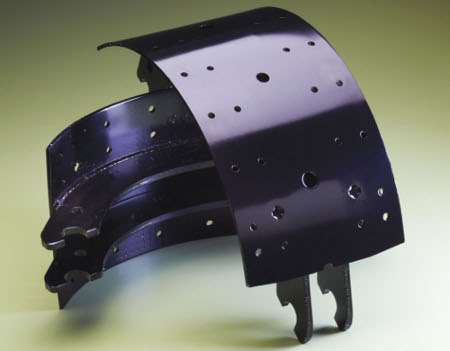 Marathon Brake Systems now offers new OEM-quality brake shoes, new lined shoes and new shoe kits.
Marathon says its new brake shoes feature electro-deposition coating (E-coating), applied to every brake shoe for rustjacking prevention, and all Marathon brake shoes are tested to withstand 1,000 hours of salt spray testing.
Marathon's new brake shoes are manufactured from thicker, high-grade carbon steel to ensure maximum life and safety and are seam-welded along the shoe's entire table/web seam for added strength and durability, the company says. All Marathon shoes are tested to the highest OEM standards and manufactured under TS16949 certification. In addition, Marathon says its precise monitoring of critical dimensions ensure Marathon brake shoes will provide uniform, balanced braking performance and prevent "hot spots," which can shorten friction material life.
Marathon also says its hardware kits are built to OEM industry standards and contain components such as stainless steel bushings, heat-treated and zinc-chromate coated rollers and powder-coated springs, all designed to be rust resistant and improve the reliability of a vehicle's brakes. Marathon's heavy-duty springs are said to be certified to 125 ft- lbs. of resistance and tested to 1,000,000 cycles.