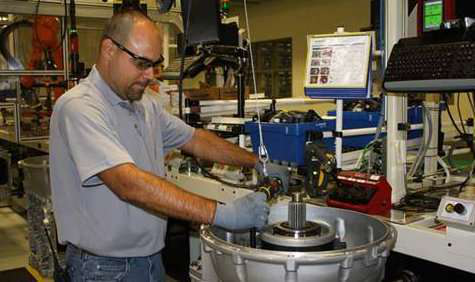 Volvo Trucks North America has invested $8 million into its Hagerstown, Md. manufacturing plant to begin its production of the I-Shift automatic transmission in North America.
"This is an important addition to our North American production capabilities and highlights I-Shift's tremendous growth since its introduction more than five years ago to the North American market," says Ron Huibers, president, sales and marketing for Volvo Trucks North America. "I-Shift has been a game-changer, providing Volvo customers clear fuel efficiency and productivity improvements. We're glad to see the industry now adopting this type of technology."
Volvo says its I-Shift transmission is central to its award-winning XE (exceptional fuel efficiency) powertrain package, which reduces fuel consumption by lowering engine rpm at a given vehicle speed. Volvo says its I-Shift transmissions were previously assembled in Köping, Sweden, and then sent to Hagerstown for adaptation to North American market requirements.