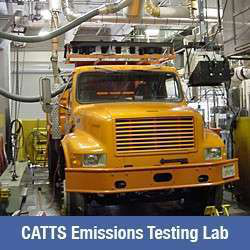 Cleaire Advanced Emission Controls has opened its Heavy-Duty Chassis Dynamometer Emissions Laboratory for outside contract services.
Cleaire's Advanced Technology Testing Services (CATTS), is located in Richmond, Calif. on the campus of the Chevron Technology Center. As one of only a handful of CFR-compliant heavy-duty chassis dynamometers, Cleaire says the laboratory is capable of testing a variety of medium- and heavy-duty power train technologies, including diesel emission control systems, hybrid power trains and alternative fuels.
"We are excited about opening our doors to external customers to perform contract testing services," says Gale Plummer, Cleaire CEO. "We've invested significantly over the past few years to ensure the laboratory is functioning at the highest possible levels of quality and efficiency required to meet customer's needs."
Cleaire's chassis dynamometer consists of a Froude-Consine transient motoring dynamometer capable of full road-load and wind simulation, with power absorption sufficient to test any vehicle up to 575 horsepower. Cleaire says its facility is capable of handling vehicles ranging from pickup trucks to Class 8 trucks, buses and other heavy-duty vehicles, single or tandem axle drive with inertia simulation from 6,000 to 85,000 lbs.