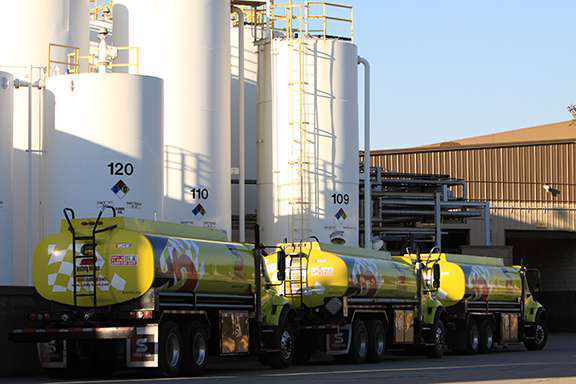 Safety Kleen's EcoPower engine oil was the focus of the company's tour of its East Chicago, Ind. refinery on America Recycles Day, Nov. 15, 2012.
EcoPower is engine oil that is re-refined from previously used oil and meets or exceeds all North American standards for engine oil production, the company says. EcoPower re-refined oil using a process that consumes up to 85 percent less energy than refining engine oil from crude oil, and Safety Kleen says it re-refines more than 75 million gallons of used oil every year. Safety Kleen re-refines its oil for passenger car, heavy-duty and hydraulic oils, and says EcoPower oil costs equal to refined crude oil.
It is reliable oil, too, Safety Kleen says. In late August, the company announced EcoPower heavy-duty diesel 15W-40 engine oil was able to protect critical engine components while maintaining viscosity and acid-neutralization capability over excessive 40,000-to-50,000-mile drain intervals following a million-mile test.
"This test proves definitively that EcoPower provides outstanding protection for engines while it protects the environment," said Curt Knapp, senior vice president and chief marketing officer. "Simply by using EcoPower, fleet owners and managers can now be even more assured that they can protect engines while protecting the environment by reducing greenhouse gas emissions."
Safety Kleen says for a fleet using one million gallons of engine oil per year, switching to EcoPower could reduce Greenhouse Gas emissions by 7,668 metric tons. Safety Kleen says nearly every type of its EcoPower heavy-duty oils are warranty approved by major truck OEMs, and its base oil is Group 2 rated by the American Petroleum Institute.
On America Recycles Day, the company also displayed the green qualities of its East Chicago re-refinery plant. Safety Kleen's Indiana re-refinery produces a clean base oil that is sold independently and can be mixed into its passenger car oil, heavy-duty oil and hydraulic oil. After re-refining, the company also says it sells three byproducts of its process to eliminate waste and minimize its footprint.