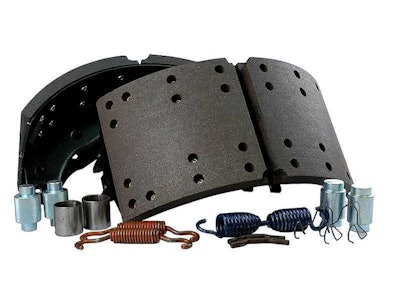 TRP has introduced an aftermarket brake program that offers brake linings for both 20,000- and 23,000-lb. applications.
"With the recent passage of more stringent stopping distance requirements and the emphasis that the Federal Motor Carrier and Safety Administration places on brakes in its Compliance, Safety, Accountability (CSA) program, the scrutiny on brake quality and adjustment has increased dramatically," says Jeff Hughes, TRP development manager.
TRP says it offers a range of remanufactured brakes engineered for medium- and heavy-duty trucks and trailers in many different applications, from city delivery to heavy-haul. The range also includes severe-service brake products for high-heat, high-duty-cycle applications like bus transport, refuse collection and construction, the company says. TRP remanufactured brakes are engineered to perform to new-brake standards.
"Each grade is uniquely engineered and formulated to provide consistent braking performance and long lining life for specific applications," says Hughes. Single brake shoes and kits are available in 15×4-in. and 16.5×7-in. sizes for both tractors and trailers. All products offered in the TRP program meet FMVSS 121 standards, the company says. For more information, visit www.trpparts.com.