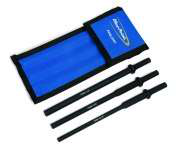 Snap-on has introduced a new air hammer drift set specifically for suspension work.
The new Blue-Point XL Air Hammer Drift Set is designed to break free hard-to-reach bolts and pins that have seized due to rust and time.
"These air hammer drifts are easy to use and make removing tough-to-access bolts much less challenging, giving service technicians the opportunity to spend more time on other jobs," says said Brian Woller, category manager for Snap-on.
The Blue-Point XL Air Hammer Drift Set provides the driving force of an air hammer where needed, while its 5-inch long
parallel shaft is designed to not get stuck in deep holes work where rusted shock and strut bolts otherwise could not be accessed.
The set includes the three most commonly used sizes (8 mm to 5/16-inch, 10 mm to 3/8-inch and 12 mm to 1/2-inch).