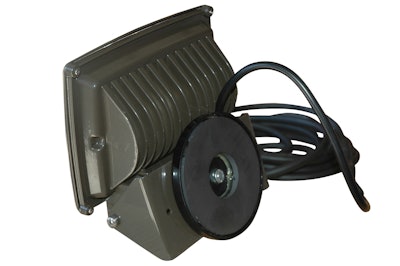 Larson Electronics announces the release of its magnetic mount blasting light, designed for high-intensity use.
Featuring a 200 lb. grip magnetic base, 1,462 lumen output from 40 watts, and 120-277 VAC compatibility, Larson says the BLWP-40LED LED Blasting Light is ideal for blasting applications as well as industrial manufacturing and utility work.
"The BLWP-40LED LED blasting light is a lightweight, durable LED light that can be equipped with peel off lens covers to protect the lens from abrasion damage," says Rob Bresnahan, president of Larson Electronics. "With integrated power supply, bright light output and cool operation, this LED blasting light is ideal for these type of surfacing operations."
This powerful blasting light is designed to allow operators to mount the light to any surface constructed of steel, iron, or any material which will accept a magnet, and will stay in place even under heavy vibration and movement, Larson says. The light also is IP68 rated waterproof, vapor proof.