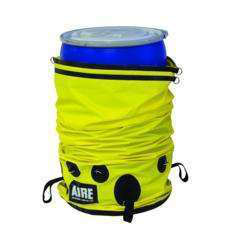 Aire Industrial has designed a new product to keep spills from a 55 gallon drum affecting the workplace and the environment.
The Encapsa Berm, is a sleeve-like design that is put under the leaky drum and rolled to the top to create an airtight seal that confines all liquids.
The Berm's design bypasses the need for the contained drum to sit on any type of plastic spill platform or pallet.
Barrels can be individually sealed and transported.