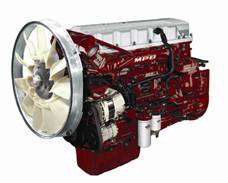 At the Mid-America Trucking Show in Louisville, Ky. last week, Mack Trucks introduced its newest engine, the MACK MP8 Econodyne+.
The 13-liter MP8 Econodyne+ engine is available in MACK Pinnacle models and offers 505 horsepower with 1,860 lb.-ft. of torque when operating in either of the top two gears, maximizing fuel efficiency and power.
"Mack customers working in mountainous areas requiring higher torque output can remain in top gear for longer, supplying more power and preserving fuel economy," says David McKenna, Mack director of powertrain sales and marketing.
At full throttle – and when the rpms reach 1300 – EconoBoost, Mack's intelligent torque management strategy, kicks in to provide an additional 200 lb.-ft. of torque, and enabling the truck to remain in top gear for a longer time period until the hill is crested.