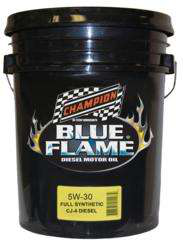 Champion has launched a new Blue Flame SAE 5W-30 diesel motor oil.
The company says its formulated and blended SAE 5W-30 Heavy-Duty Diesel Motor Oil reduces engine wear and corrosion while maintaining viscometric properties and enhances protection to engine and exhaust system components.
Champion's SAE 5W-30 was found to deliver an average of 3.3 and up to 4.5 percent fuel economy improvement over a conventional SAE 15W-40 API CJ-4 lubricant tested at an independent testing facility using the SAE J1321 fuel test protocol, the company says.
Additionally, Champion says its new oil has a 50 percent faster time to pressurization than a traditional SAE 15W-40 leading to faster lubrication of critical valve train hardware and reduced start-up bearing wear.