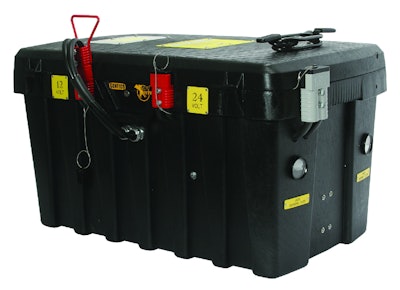 Clore Automotive introduces its new SOLAR commercial jump starter with 12 and 24 Volt jump starting capability.
According to Clore, this unit provides endless jump starts for commercial fleets and construction equipment, and delivers the instant power of 1800 CCA in 12 Volt mode and 900 CCA in 24 Volt mode. Clore says it is the perfect unit for permanent installation on a service vehicle, featuring extra-long 16' cable leads made of 4/0 cable, heavy-duty clamps to penetrate battery corrosion, an alternator harness for vehicle-powered recharging and three installed Group 31 batteries.
The jump starter also features an enhanced 3-channel charging system. The new charging system is said to charge each battery independently to ensure a complete charge for each battery during every charging cycle. In addition, Clore says the new charging system features charge settings for both flooded acid and AGM batteries, allowing the operator to change the charging mode with the flip of a switch if AGM batteries are installed in the future.