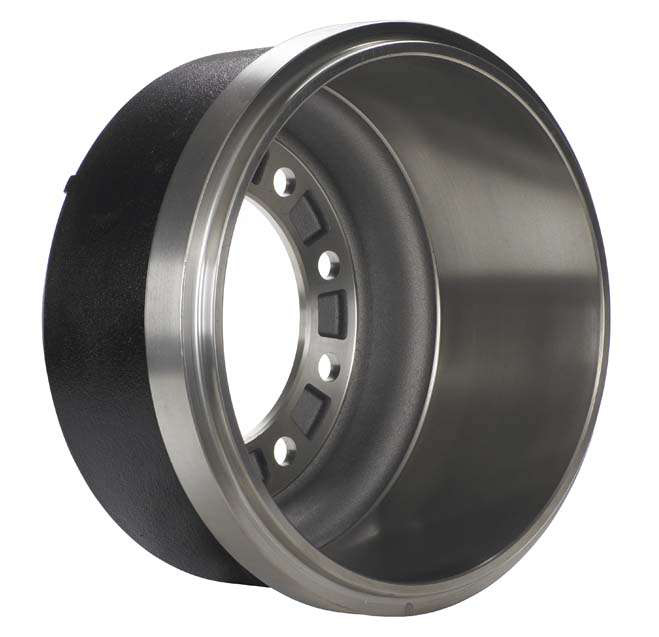 Accuride Corporation Thursday introduced the Gunite Silver Lightweight Brake Drum from its Accuride Wheel End Solutions brand.
The new Silver Lightweight Brake Drum is a lightweight full-cast brake drum machined at Gunite's Rockford, Ill., facility, and achieves a 12.5-lb. weight savings over standard full-cast drums
Chuck Byrnes, Accuride Senior Vice President of Sales and Marketing, says Gunite's Silver Lightweight Brake Drum demonstrates the company's commitment to deliver industry-leading wheel end component technology by offering customers unparalleled performance, value and weight savings.
"That translates into additional payload, better fuel economy and lower operating cost without sacrificing the quality and dependability that our customers count on from Gunite," he says. "It is the latest in our broad range of drums that provide superior heat transfer characteristics and over-the-road durability at the weight and price that best meets our customers' needs."
Accuride says key features and benefits of the new Gunite Silver Lightweight Brake Drum include:
• Uniform Heat Dissipation – Consistent section thickness ensures uniform heat transfer performance.
• Strong and Efficient at Reduced Weight – State-of-the-art casting and structural simulation analysis tools combined with high-strength gray iron create an optimum mounting flange and wrap-around design that contributes to overall weight reduction without compromising design integrity.
• Consistent Quality – Advanced state-of-the-art machining process ensures consistent quality and reliability.
• Performance Tested – Exceeds all Federal Motor Vehicle Safety Standard 121 (FMVSS) dynamometer test requirements along with Gunite's additional rigorous internal durability test standards.
• Advanced Production Processes – Foundry metallurgy continually monitored and controlled to achieve maximum consistency, while state-of-the-art machining utilizes in-process quality checks of key characteristics to achieve world-class quality standards drum after drum.