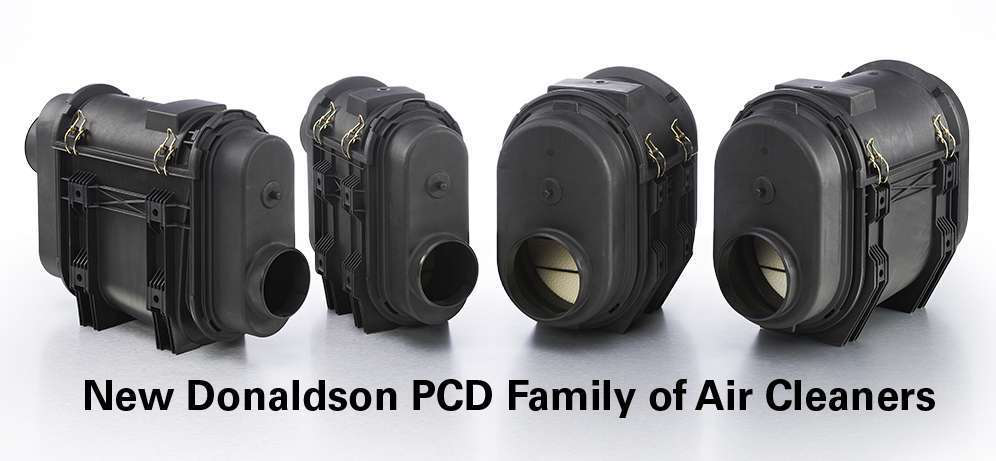 Donaldson has announced that its PowerCore product line now covers even more on- and off- road applications with the recent additions of the PCD family and the PSD14.
The new Donaldson PowerCore PCD air cleaner offers single-stage filtration in a compact unit and is ideal for on-highway trucks and other applications operating in light dust conditions. The PCD family – which includes the PCD09, PCD10 – offers performance for engine airflow ranges up to 974 cfm, the company says. Its obround housing shape allows for a narrow or wide mounting orientation with side access for easy filter service and maintenance.
The PowerCore PCD family can also be used in conjunction with one of the many Donaldson pre-cleaner offerings such as Strata Cap, TopSpin or TopSpin HD, to incorporate a two-stage filtration intake system for medium dust environments.
The PSD14 Air Cleaner expands the PSD family of air cleaners into a larger size and airflow range – now up to 1450 cfm. With the addition of the PSD14, the airflow range of the PSD family now extends from 176 to 1450 cfm.
The PowerCore PSD family – which also includes the PSD08, PSD09, PSD10, PSD12 – offers the trusted features and benefits of two-stage filtration (with a built-in pre-cleaner) in a single, compact unit, Donaldson says.