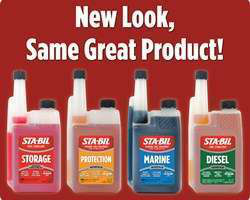 After more than 40 years, STA-BIL® announced Monday the company will introduce a new look and feel to its line of fuel stabilizers and ethanol treatments.
In recent years, after expanding its line of products to include engines of all kinds, STA-BIL is rolling out a fresh, new labeling system designed to help consumers identify and select the right STA-BIL brand products for their engine needs.
STA-BIL says the brand designed a new labeling system to create a clear differentiation between its four different formulas of STA-BIL, which include STA-BIL Fuel Stabilizer, STA-BIL Ethanol Fuel Treatment, Marine Formula STA-BIL and Diesel Formula STA-BIL.
"Our new label designs allow us to minimize copy, while maximizing the most important information consumers need to know when selecting a STA-BIL branded product," Jennifer Robertson, STA-BIL Brand Manager at Gold Eagle Co., says. "We understand customers have choices when shopping, and our new label designs make STA-BIL a quick and obvious choice at the point of purchase."