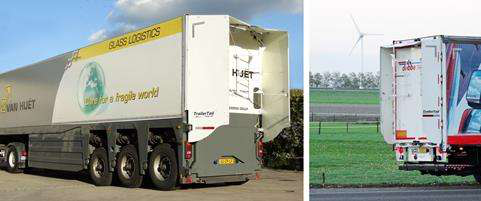 ATDynamics announces the launch of several new distribution partners throughout Europe to bring its TrailerTail and EcoSkirt System aerodynamic technologies to the European market.
Emons Group, Dobbe Transport, Ewals CargoCare, and Transport Van Overveld are the first European fleets to utilize TrailerTail technology in Europe, ATDynamics says.
ATDynamics TrailerTail and EcoSkirt System technologies will be distributed in France, The Netherlands, Belgium, Spain and Turkey through the following partners:
•  Frappa, a leading French trailer manufacturer for France.
•  Imbema Rhiwa, a leading truck and trailer parts distributor for The Netherlands, Belgium and Luxembourg.
•  Van Hool, a major manufacturer of commercial vehicles in Belgium.
•  Iberica de Control Aerodynamico Sociedad Limitada a specialty commercial vehicle parts company in Spain.
Distribution should also commence shortly in Turkey with an industry leading partner, ATDynamics says.
"Our European customers have expressed the greatest interest in our complete aerodynamic system, which is expected to deliver up to a ten percent fuel efficiency gain," says Devin Koch, vice president of international sales at ATDynamics. "The permitting of the maximum efficiency TrailerTail in Europe by the EU could more than double the fuel savings available at the rear of the trailer to about five percent.
"Pairing TrailerTail technology with the ATDynamics EcoSkirt System and other coming products could deliver a ten percent reduction in fuel consumption to transportation companies seeking a significant cost advantage over competitors."