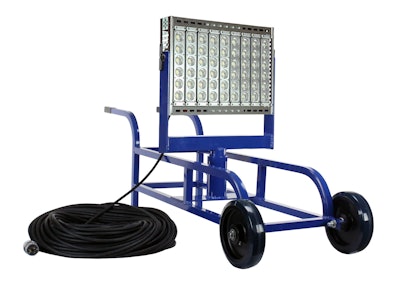 Larson Electronics has introduced a 400 watt portable LED work light mounted to a wheel barrow style cart.
The WAL-WBC-400LTL-LED-100 cart mounted LED work area light from Larson Electronics produces 52,000 lumens of light capable of illuminating an area 36,000 sq. ft. in size and is designed for portability and durable operation.
Larson says 54 Bridgelux high output LEDs producing 963 lumens each are arranged in rows and paired with high purity optics to produce a well-focused 25° wide spot beam that is ideal for providing far reaching concentrated illumination while still covering a substantial amount of area. This portable light cart has a swiveling LED light head bracket mounted on top of a wheel barrow style cart with wheels for easy positioning of the unit from one area of the work space to another. Included with this LED light cart is 100 ft. of SOOW cord, which the company says provides ample length for cart placement and optimal coverage of the work space. This light is universal voltage and can be operated with 100-277 volts AC.
Larson says the LED cart mounted work light is IP67 rated, dust-proof and protected against high pressure jets. This portable lighting system is an ideal replacement for fragile and hot running 1000 watt metal halide work lights. This unit offers low power requirements, high durability and a versatile mounting system that makes it a superior lighting solution for demanding applications where power and reliability is critical, the company says.
"This new LED work light cart is for general work areas for people needing powerful, temporary illumination," says Rob Bresnahan with Larson Electronics. "The wheelbarrow style design allows operators to move the unit from one side of a work space to another with ease."