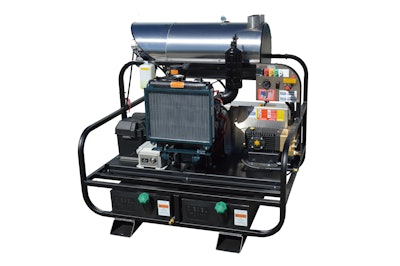 Water Cannon introduces its new roll-cage protected pressure washer.
According to Water Cannon, this new series is powered by Kubota Z602B1 or DH902B1 engines. It has up to 8.0 GPM and 4,000 PSI, as well as a five-year manufacturer's warranty, engine warranty and five-year prorated coil warranty.
Water Cannon says the washer has a 3VX belt system with four belts, which are laser-aligned and factory tested, to deliver balanced power transfer for complete control. Engine and pump oil drains also mean maintenance simple and hassle free, the company says.
The roll cage and powder-coated steel skid base with fork lift channels also are encased in a special coating to endure harsh conditions for many years, Water Cannon says.