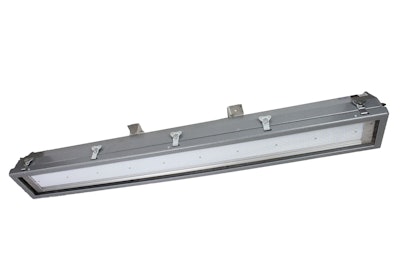 Larson Electronics has announced the release of a new 160 watt integrated LED light fixture approved for Class 1 Division 2 areas and is ideal for hazardous locations where flammable chemical and petrochemical vapors may be encountered.
The HAL-48-2L-ITG-LED-BMSW from Larson Electronics is a four foot, two lamp integrated LED light fixture that is ideal for operators who seek a top quality, explosion proof light that reduces operating costs, improve lighting quality, and reduce down time from incurred frequent servicing intervals, the company says.
This new LED light fixture is surface mounted via two adjustable swivel brackets cinched to the mounting pegs on each side of the light. The angle of the bracket is set by tightening two bolts on either side of the bracket. Once the brackets are mounted to a surface, the light fixture can be pivoted by loosening the bolts which allows for 45° of pivot from the 90° point. This class 1 division 2 fixture is universal voltage and operates on any voltage ranging from 90 to 305 volts AC or 127 to 431 volts DC, Larson Electronics says.
"This new integrated LED fixture provides operators with top of the line output in a compact form factor that certainly outperforms standard fluorescent fixtures most people use in hazardous locations," says Rob Bresnahan with Larson Electronics. "The solid state LED technology offered by this fixture provides operators with a more reliable, durable, and energy efficient lighting solution."