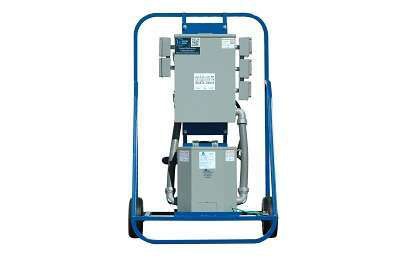 Larson Electronics introduces a new portable power distribution system that converts 480 volts AC three phase electrical current to 120 volts AC and 208Y volts AC.
The MGL-480-15K-120-208Y-12X20-2X30 portable power distribution system from Larson Electronics is said to provide a safe and reliable way for operators in industrial settings to tap into and use power sources independently of the work area. This system provides operators the ability to safely tap into and distribute 480 volts AC power from a variety of sources including generators and direct grid power.
Larson says the transformer is designed to operate with 480 volts, three phase which is then stepped down to single phase 120 volts AC and three phase 208Y volts AC. Twenty feet of Type W line-in power cord is included to connect the substation to a primary 480 volt three phase power supply. The secondary current is wired to a 120/208Y, three phase 100 amp load center with main breaker for circuit protection. The 120 volt line-out protection is provided by twelve 20 amp, 125 volt, 1 pole breakers and two 30 amp, 240 volt breakers. Connection to 120/240 volt is provided by twelve 5-20 120 volt, GFCI waterproof duplex receptacles and two L6-30 240 volt twist lock receptacles with waterproof covers.
"This unit provides an effective power distribution system for operators performing plant turnarounds, maintenance and cleaning in hazardous areas, equipment installations and repairs, and other activities requiring an alternative to native power sources," says Rob Bresnahan with Larson Electronics. "As a manufacturer, Larson can modify these distribution systems to meet the demands of customer specifications."
According to the company, the transformer and distribution assembly is mounted to a standard steel dolly cart style frame resulting in an extremely stable, durable, and mobile power distribution platform. Two rubber tires and a cart style mounting platform provide easier substation mobility, and a center point lift eye allows easy lifting with cable or chain hooks. This power distribution system is NEMA 3R rated and ideal for many indoor and outdoor applications, the company says.